Dog's Nation is a 10 acre animal Sanctuary outside of the town limits of tiny El Dorado Springs, Missouri. Home to about 65 dogs at any given time, a couple of dozen cats, and one blind horse, Dog's Nation specializes in Pit Bull type dogs, rescuing them from shelters where they are nearly certain to be euthanized.
Founded in 2002 by Shawn Abell, Dog's Nation has been run almost single-handedly by this remarkable 64 year old, 95 pound woman for the past several years.

With resources in short supply, The Bully Dog Rescue Coalition ("BDRC") has dispatched a Team to Missouri, with Dog's Nation becoming part of its "Rescuing the Rescue" Program. Working with its Team Members back in California, they are together raising awareness and funds for Dog's Nation, massively improving the property, installing a kennel enrichment to ensure the dogs a solid daily quality of life, and establishing Programs which will see Dog's Nation run in a long-term, self-sustainable fashion after BDRC has departed.
Provided that The BDRC and Dog's Nation together can meet these goals, this will leave Shawn "free" to concentrate on her passion --and along with rescuing at-risk dogs—perhaps the Foundation's most important work… Battle Buddies.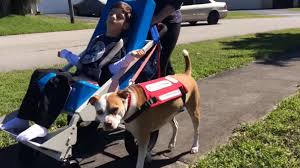 Through its Battle Buddies Program, Dog's Nation matches dogs who demonstrate service potential, with combat veterans and children with autism and other special needs. Once the match is made, Shawn then trains that dog for a period of 6 months or more, specifically for its new person. This type of service typically comes at a fee of $25,000. Since its inception, and despite often struggling financially to stay afloat, Dog's Nation has gifted these dogs, entirely free of charge, to their recipients.
Please consider helping Dog's Nation to continue its excelling work, saving dogs, and "saving" people.
| Initiative | Amount |
| --- | --- |
| Property-wide Clean-up | $13,000 |
| Property-wide improvements, inclusive of dogs' housing, veterans' housing and one-time purchases | $51,390 |
| Dog-centric Good and Services | $24,900 |
| Local Personnel; including Foreman and Fundraising/Administrative Manager | $15,400 |
| General & Administrative | $11,460 |
| Bully Dog Rescue Coalition; "Rescue the Rescue" Program (travel, housing, living expenses) and Anti-BSL end of Summer nationwide Tour | $24,895 |
| Bully Dog Rescue Coalition; Anti-Breed Specific Legislation nationwide Tour | $17,259 |
| Bully Dog Rescue Coalition; celebrity fundraiser / screening of anti-dogfighting documentary | $9,776 |
| TOTAL | $166,170 |