Ramone & GoGo & Eos (RIP Marley)
Ramone & GoGo & Eos are the unofficial "mascots" of The Bully Dog Rescue Coalition (BDRC). CEO Rick Bassman is their proud parent.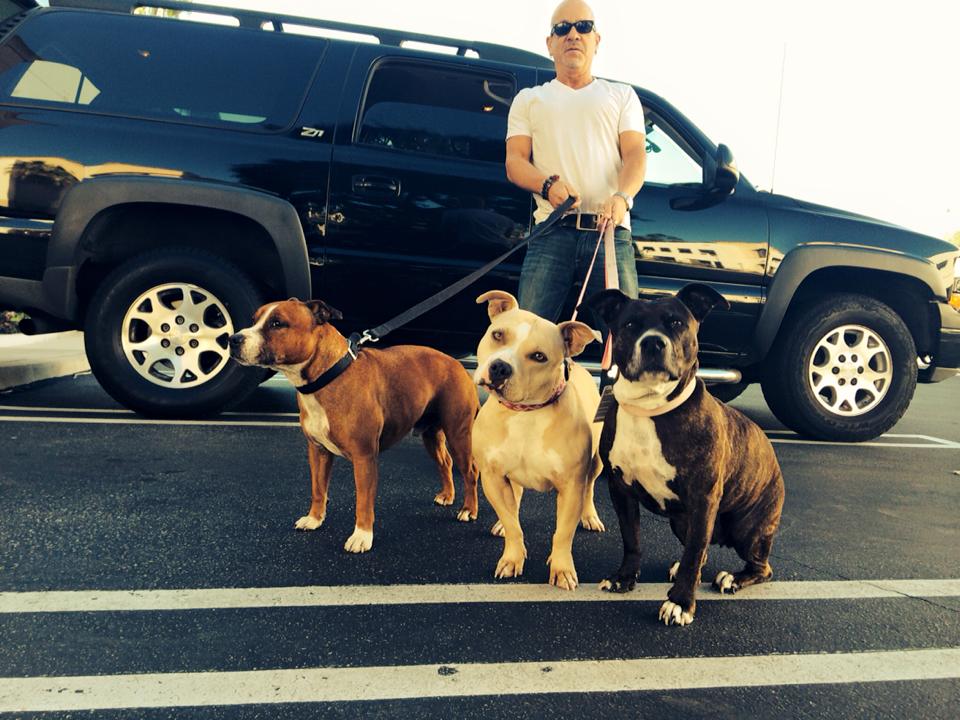 Ramone & GoGo & Eos (also known as The Itty Bitty Pittie Committee, The Knuckleheads, or simply R, G n' E) are wonderful examples of the heart and soul of bully breeds. Ramone is a 38 pound Staffordshire Bull Terrier, GoGo is a 50 pound American Pit Bull Terrier and Eos is a 46 pound American Bully. They are one hundred percent friendly with EVERY person regardless of age, size or gender and they are always eager to make new pals. Ramone, GoGo and Eos often visit children's hospitals to offer comfort, support and to put a smile on patients' faces and have walked many red carpets at events in Los Angeles. They are exceptionally well-socialized with other dogs. Ramone, GoGo and Eos are now on a mission to be ambassadors for bully breeds and to demonstrate their true, loving nature.
But first, a little bit of their stories…
Ramone and his brother Marley were born on Nov. 3, 2007, into a hoarding situation. Rick rescued them eight weeks later, and both immediately became exceptionally well-loved members of the family. A year and a half later, while relocating residences, Rick boarded Ramone and Marley with an overnight operation in Wildomar, CA that specialized in large breeds. Ramone and Marley were accidentally let out of the property. The following day, Rick identified Marley's body — he had been run over and crushed by a car.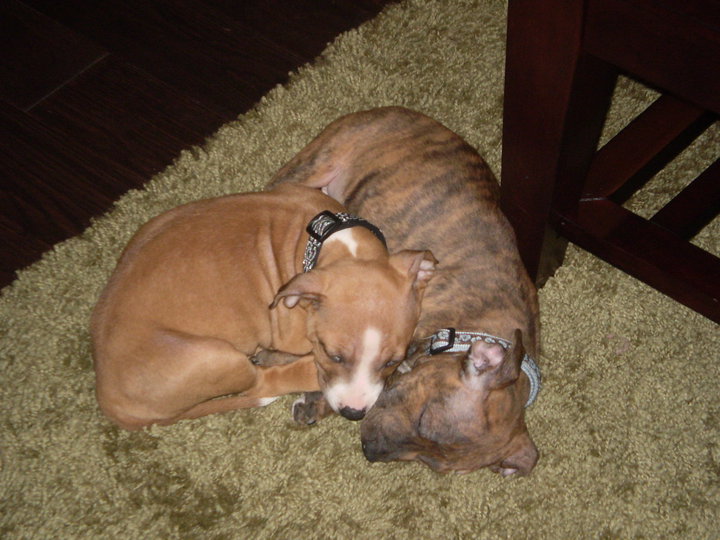 For the next six months, Rick dedicated himself to finding Ramone, generating so much publicity in his quest, that Tia Torres and her Pit Bull and Parolees crew traveled out to Wildomar to spend a day looking for Ramone. Six months later, Ramone was picked up by local Animal Control and brought to Animal and Friends Shelter in Lake Elsinore, where Rick joyfully picked him up and brought him home.
A couple of years later, Ramone and Rick moved to the mountains of Big Bear, and "they" decided to look for a new sibling for Ramone. This is when Rick first discovered The Linda Blair Worldheart Foundation (LBWF) and formed what would become a close friendship, and later a partnership, with Founder Linda Blair.
Welcoming GoGo
The first blessing of this new association is GoGo — who came home to join Ramone and Rick in the mountains. Together, the three hiked together daily and became inseparable. GoGo initially came to LBWF by way of Animal Control of Moreno Valley. An officer on duty received a phone call from a woman, saying that her son had moved out, and she believed he had left a dog in the backyard, but she didn't want to look herself. The officer arrived at the home and found GoGo shivering in the cold in a tiny cage in the backyard. She was chained by her neck to the top of the cage and couldn't move; her skin was sagging to the floor of the cage. By the time Ramone and Rick met GoGo at LBWF, she had returned to physical health but was shy and reserved. That first year in Big Bear, she didn't bark once, and never gave kisses. The first time she did both, in moments of joy while at play, she immediately shrank back, looking as if she were in fear of being beaten. Today, GoGo is a barking, kissing fool and truly one of the sweetest beings you could ever encounter. She shares her Nov. 3 birthday with her brother Ramone, and the two are probably about the same age.
Welcoming Eos
Eos came to LBWF three years later, also from a Shelter in the High Desert. She had come to the end of her stay on "doggie death row," and the shelter workers had come to love this beautiful, but terrified little girl. They called Linda personally and begged her to take Eos in and give her a second chance at life. At roughly one and a-half years old, this gorgeous little bully entered LBWF at a starved 22 pounds. A deep scar runs from the bottom of her belly to the top of her chest, and whatever injury caused the scar has since been blamed by veterinarians as the cause for digestive problems.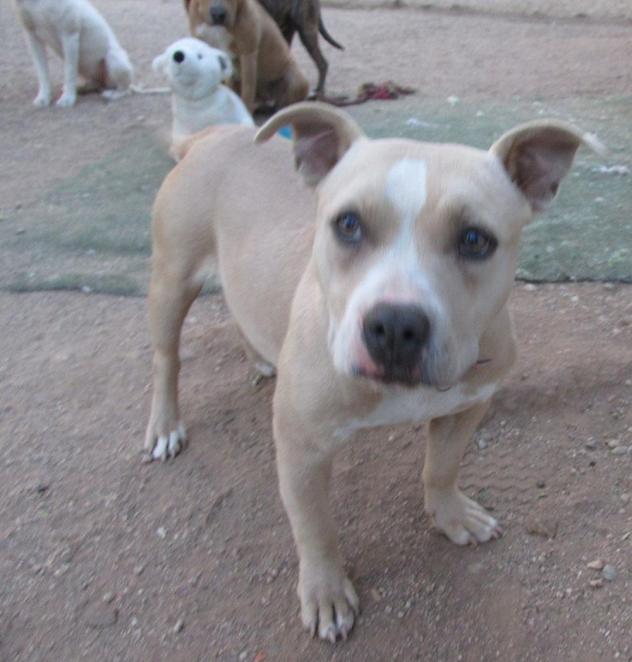 Eos joined Ramone, GoGo and Rick in late 2015. Her first several months were very tough. Frightened by nearly everything, Rick was hesitant to even lightly reprimand or correct her for any transgression, small or large. While still inexplicably afraid of some things, like the ocean, Eos has come a long way. As of this writing, she is an extremely fit and beautiful 46 pounds, with an ear to ear smile, and a pleased-to-meet-you demeanor. She is often called "Sweet Baby Blockhead." Eos knows most of her basic commands and is learning more quickly (a little, healthy treat goes a long way!). She is incredibly bonded with brother Ramone and sister GoGo, playfully roughhousing together throughout the day and typically, sleeping in a giant ball of three each night. Eos now shares her Nov. 3 birthday with Ramone and GoGo.
Ramone, GoGo and Eos are now ambassadors for The BDRC and will soon be touring the U.S. on the Great America Pit Bull Adventure, visiting with sanctuaries and rescues from coast-to- coast, meeting with governmental leaders whose cities and counties have enacted breed-specific legislation, and making media appearances. You can soon meet them at The BDRC's Sanctuary in San Luis Obispo.
Until then, please follow the Itty Bitty Pittie Committee on Facebook, Instagram and Twitter.